Saturday morning, July 16
The plan is to start a week long 25th wedding anniversary vacation with my wife. The plan is to ride the ski out east all day, return to boat, sleep, then head to drop my daughter at Coast Guard Camp, then boat all week…here's what happened instead.
We trailered the ski to Westhampton to eliminate any Great South Bay chop as this was to be a relaxing trip. I was reminded of this repeatedly by my wife, as well of the fact that her favorite speed was 30, unless there was chop, in which case slow down! OK, I can do this, and if I could I would make it to our 25th on Tuesday. Pulled into Westhampton Beach and talked to Frank the dockmaster who introduced me to Yamadude from the PWC forums, who happened to be there on his boat. We talked and exchanged numbers for a trip up the Hudson on Sunday.
So off we went through the Quantuck Canal and Quogue Canal. As usual a beautiful and peaceful ride through here. Just watch your speed as almost always, especially on weekends, the LEO's are waiting for those going fast, so go slow until you pass the last sign before Tiana Bay.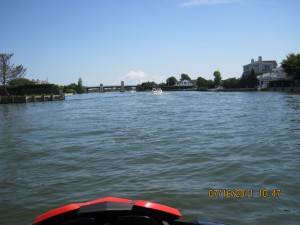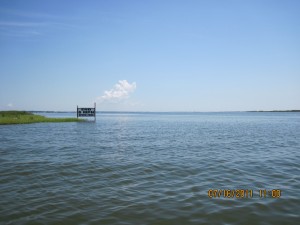 The weather was perfect and the water was pretty calm all day. My wife said that it was because she was with me. A slow pace east through Tiana Bay toward the Shinnecock Bay. We rode along the west side of Shinnecock Bay after the Coast Guard station and admired the houses to the locks. There was more activity today as it was a Saturday but we caught the lock as they were filling up with boats so there was no wait. When we exited the canal we went west and rode the south coast toward Flanders Bay. A nice stop on the way is Red Creek Pond, which is well marked. A nice hang-out.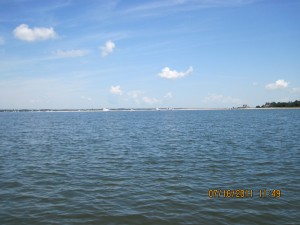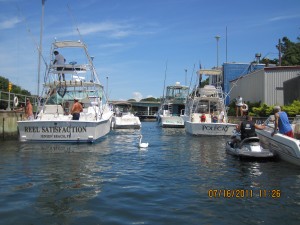 Watch the sand bar (go north around the point) and head into Flanders Bay. This is an awesome ride as you cruise along the shore in Flanders Bay and Reeves Bay and head north Indian Island Park. It always amazes me how much more you can see on a ski than a boat, especially when the tides are up. We chose not to go further west into Peconic River as it it 5mph just past Indian Point. If you have never gone down there it is a nice ride to Riverhead, where there is food and fuel. Free town docks to tie up to as well.
Riding now along the north side of the Bay toward Robbins Island, we pass Jamesport and Mattituck. There are places to explore here as well. We traveled past Cuchogue Bay and North Point into Little Peconic Bay and then rode along the south side of Shelter Island Sound past the Shelter Island Ferry and toward Smith Cove, which is beautiful as it winds past Mashomack Preserve on Shelter Island. Be careful riding the shoreline along this route as there are rocks. Across Sag Harbor Bay and to the town docks for lunch. A free tie up if you use the dingy dock. You'll need to save the money to pay for lunch in Sag! So far the trip was smooth with very little chop. I would say we cruised along at an average speed of 20mph. Approx. 50 miles and we were still talking and looking forward to our 25th! As usual lunch was awesome and a great break. Fueled up here at the only gas station just east of the yachts. Get fuel here even if you don't need it just to give you an excuse to ride past the yachts. Real cool sight.
Back on the water we went across the bay to the south side of Shelter Island again and just past the ferry we took the north side of the coast. We explored a little creek before cruising Noyack Bay, Morton Wildlife Refuge, and Little Peconic Bay. We made another stop in Bullhead Bay, a real nice spot.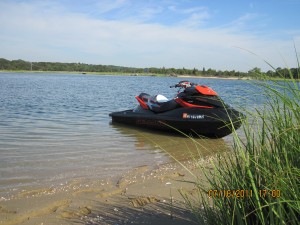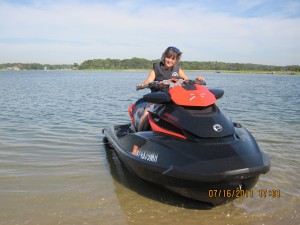 The trip back was a bit more chop and I was reminded of the "Ideal Speed" but going slow was very relaxing and I was really enjoying the day. South through the canal and perfect timing again so no wait as they filled the locks with boats. Took a leisurely approx 38 mile ride back to the ramp in Westhampton Beach and drove back to the boat. Pretty awesome day!

Sunday July 17
Woke up early to take my daughter to Coast Guard Camp in Connecticut and we decided that why waste a trip all the way to New London and not bring the ski being we had such a great day yesterday? So off to the Connecticut River. We didn't get into the water until 4:00 pm but I am learning that you don't need to always go to extremes (at least when you have a passenger) – you can go out for part of the day and still have an awesome time. Found a really nice state ramp – Baldwin Bridge State Launch just north of the I-95 bridge on the river.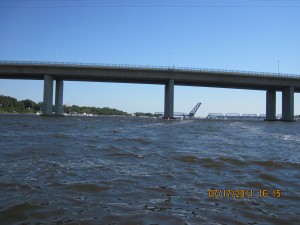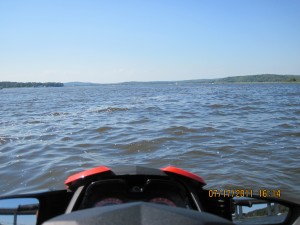 The Connecticut River has many 5 mph zones but is a real pretty river with lots to look at. Be prepared to obey the no wake zones as the LEO's are usually out in force. Pretty quickly you come up to Essex on the east shore. Great town but too soon to stop so early in the trip. Th river isn't wide and there is a lot of boat traffic, so if you stay outside the channel you are better off. Cruising up the river you find many places to hang and swim if you want. On the south shore we pass Gillette Castle, right where the small car ferry connects route 148 on the north and south shores.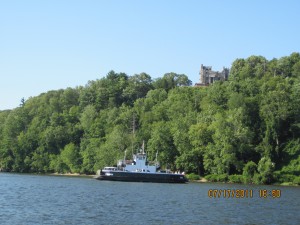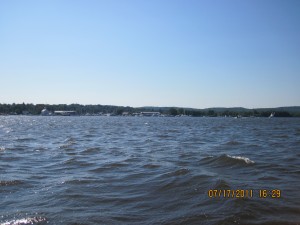 As you approach Haddam you find the hot dog boat in the middle of the river in case you need a snack. Pass the town of East Haddam and the Goodspeed Opera House on the eastern shore, you go under the bridge and pass Haddam State Park, where you see people hanging out on the shores.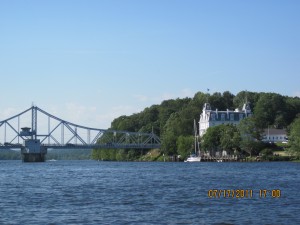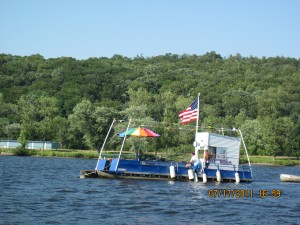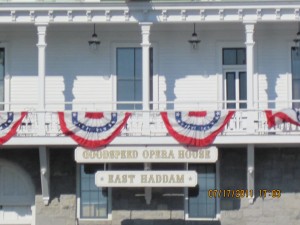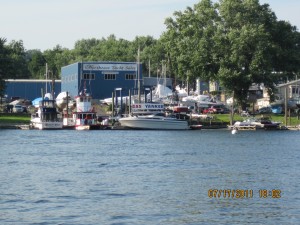 Time didn't afford us the opportunity to do the whole river this time so we stopped at 6:00 just before Middletown at Yankee Marina and fueled up for the ride back. Back to the ramp by 8:15, approx 50 miles round trip. The river is navigable to Hartford and it's a real nice cruise. It's a great river to take your time on and enjoy, especially with a passenger. With lots of places to get fuel and food and swim it's definitely worth the trip. I have done it in the past by launching from Orient Point and going across the Long Island Sound. That eliminates all the car driving to the river and a better option, in my opinion. The drive back to the boat was long but we wanted to be on the boat to start our week cruising early Monday morning…..

Monday July 18
Woke up Monday morning with every intention of spending the next 4 days on the boat, but after such a great 2 days my wife and I decided that we should pack up and go jetskiing again! She wanted to do something I haven't done before so we decided to head to the Finger Lakes. Well, 300 miles later we arrived and finally found a great place to stay and prepare for the first of the 2 lakes, Cayuga, we planned on riding while there.

Tuesday July 19
I was excited to be riding where I haven't before, but I have to be honest and say that lakes are not my favorite because I feel limited in what I can do. Launched in Ithaca at Allan Treman State Marine Park and headed north. With my now trusty passenger and companion on the ski we took the north side of the lake up. It was calm as, well, a lake, with no bots around. It was an interesting trip up. What I noticed mostly was the lack of state land on the shores. Mostly private houses and communities, with not much beach front. I almost felt like there was a problem because of the lack of boats and people. I didn't see many towns or marinas either. Our intention was to get to the end of the lake and get lunch and fuel and possibly take the canal to Senaca Lake; maybe stay overnight. So under the railroad bridge and into the canal…no food and no gas. But definitely a wild sight seeing this machine cleaning the canal of the grass. Never saw anything like it! Like a street sweeper except on water.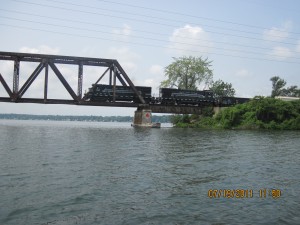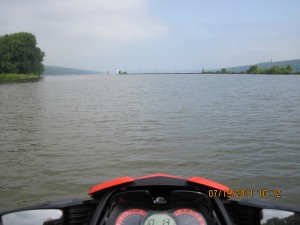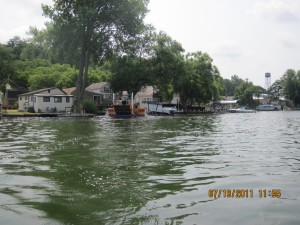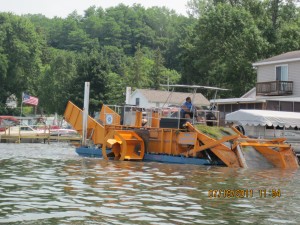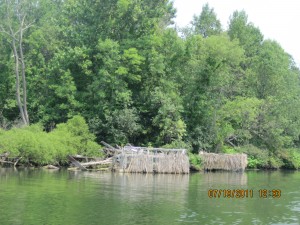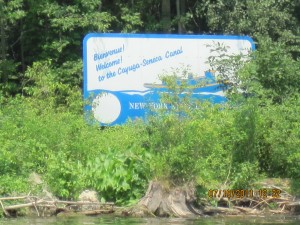 We had our granola bar lunch and figured we would still take the canal west (you could go north through Mud Canal to the Erie Canal) toward Senaca Lake, even though it was 5mph and like 100 degrees. The very beginning of the canal was, quite honestly, a bit disappointing. I'm sure at one time the canal, like a lot of upstate areas and towns, had it's heyday and was more active but it felt very old and run down on the south bank, but pretty with the Montuzuma Wildlife Refuge on the north. We were about to turn around but decided to go ahead to the locks – and it was a good choice as there were some very pretty spots along the way and areas to speed along. But yes, there were many run down looking areas as well…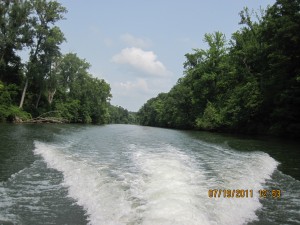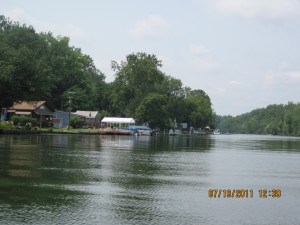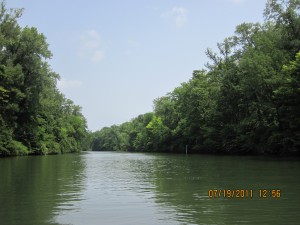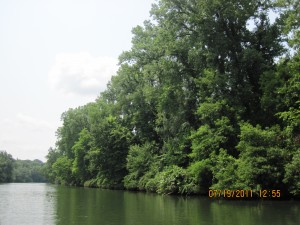 We arrived at lock #2/3, which is really the first lock on the canal coming north, and it is a 2 step lock as it is a 49 foot lift. Locking in the canals is always a cool experience. When you come out of lock 3 you have Senaca Falls on the north side. We decided that we would forge ahead as we were told that there were marinas and food at the Senaca Lake end of the canal after lock 4. This was a mistake as it was too hot to be baking in the canal and time didn't really allow us to go forward unless we were willing to stay overnight on Senaca Lake, and not knowing what it was like I didn't feel comfortable doing that as I wasn't too thrilled with some of the areas we passed on the way. Again, too bad how times and economies have changed a lot of these areas into "old towns." (I would find out the next day that it would have been fine to go ahead as Senaca Lake is more populated and different from Cayuga and the canal.) We were only about a mile from Senaca Lake but we found fuel at Inland Harbor Marina in Waterloo (no food so a cereal bar snack would have to do) and headed back east on the canal with Senaca Falls in mind for food.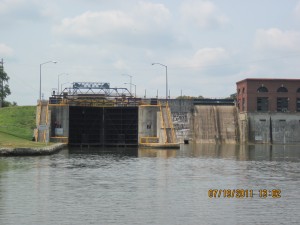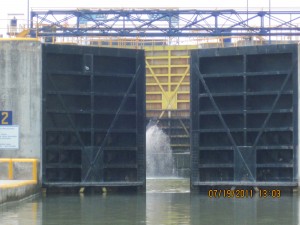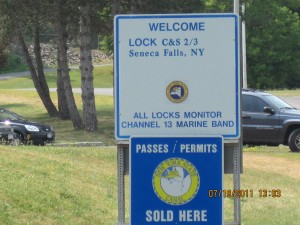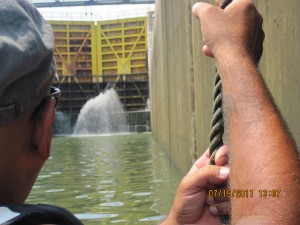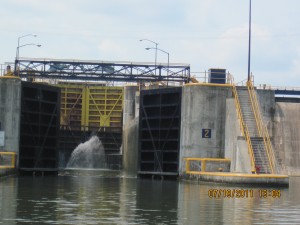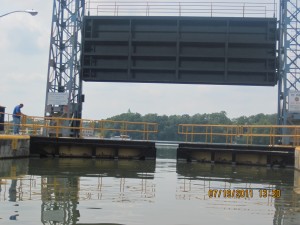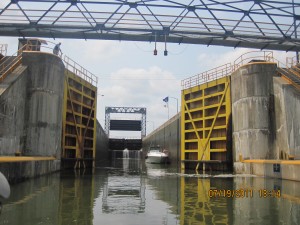 Back through lock 4 and a welcome stop in Senaca Falls for a late lunch. Nice stop-over here. Plenty of food and a nice town. As usual we were tight on time if we were going to make it through the locks and canal and south on Cayuga before sunset so we didn't get to explore much. The ride back on the eastern shore was a bit choppy as the wind had picked up but it was still a nice ride back. The trip was approx 100 miles and was worth doing. I was a little disappointed in that the lake was not as picturesque as I thought it would be, nor was the town where we launched from, but I had a great trip and saw many things I haven't before. My wife of now officially 25 years made it through another day of touring and we were looking forward to Senaca Lake on Wednesday, although I was warned that it would not be a vroom-vroom ride all day! Stopping and swimming and seeing the sights were on her agenda. I let her know that her making it to our 26th anniversary with an attitude like that was not looking good. 🙂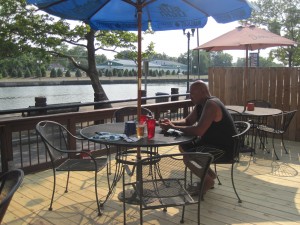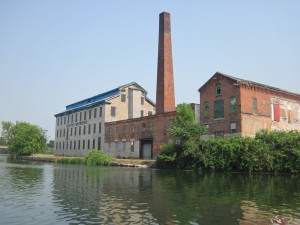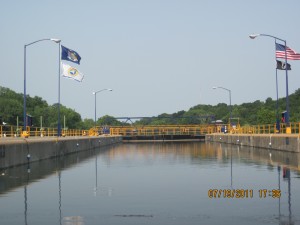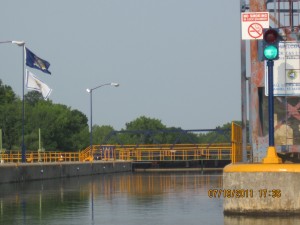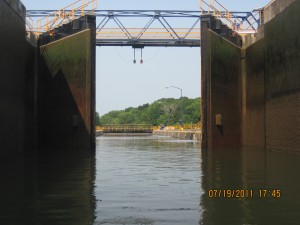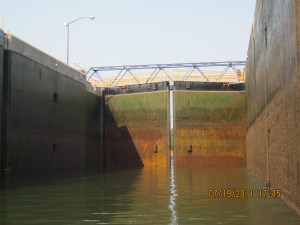 Wednesday July 20
We left early to head to Senaca Lake on Weds. About a 30 min drive. Found a nice hotel on the lake and a ramp but before we headed out we went to Watkins Glen so we could do something beside just vroom-vroom all day. Watkins Glen and Senaca Lake area are more what I thought the Finger Lakes area would be like; more touristy and nicer than Cayuga Lake area.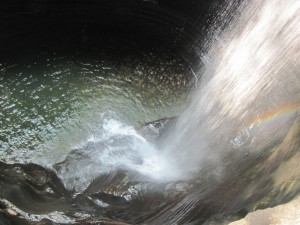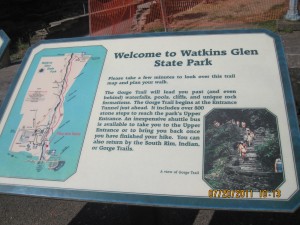 After hiking up Watkins Glen, which is really cool and shouldn't be missed, we launched in town ($4.00 fee well worth it as you start right at the bottom of the lake) and rode along the western shore. Again this lake was pretty quiet and calm, but it had a different feel. The houses along the shore were nicer and there seemed to be better views, although still no mountains, which strikes me as strange upstate. We passed no marinas or food that I could tell on the way up on the western shore but it was a nice ride to the town of Geneva at the northern tip of the lake , where there is a town dock.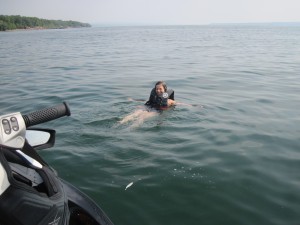 We tied up in town and had lunch at the Holiday Inn on the water (if I knew it was like this, civilization, on the other end of the canal I would have went the extra mile or two on Tuesday and stayed overnight). Great stop. We found fuel at Barrett Marine just inside the entrance of the canal at the northeastern tip of the lake.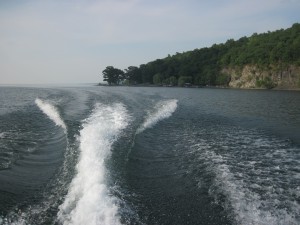 With plenty of time to spare we took a slow ride down the lake and enjoyed the different landscape. We even had time to stop and swim a few times. Back at the ramp and another day completed for my passenger and we were looking forward to the culmination of our week long trip on the Hudson River on Sunday. So far it has been an awesome trip for both of us. Approx. 70 miles round trip. The weather and water cooperated and with a little give and take I was learning not to always have to go all day and my wife was beginning to see why I love to go all day – so much to see and do…looks like we can make it to 26 years…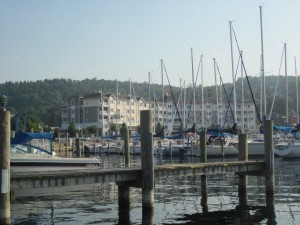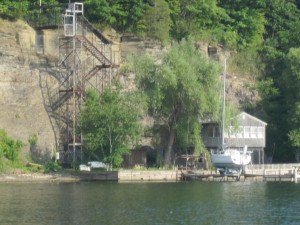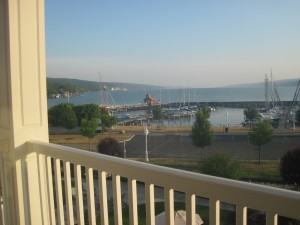 Thursday, July 21
On the road early for the long drive back to Connecticut as we had to be at the Coast Guard Academy Friday. Took 17 to 84 as it was a much nicer drive down. We were going to just take the day off from riding but as we passed over the Housatonic River in I-84 we looked at each other and said lets do it! We found a ramp at Lake Zoar Wildlife area on Scout Road. It was late in the day so this was to be the perfect ride short ride. Where we launched, we learned, has a dam at each end of this part of the river. It is only an approx. 16 mile stretch from the southern dam at the end of Lake Zoar (route 34) to the northern dam at the end of River Road 1, but it is a real pretty ride with some great spots to swim and float. Because it is a narrow river I would think it would be crazy in here on weekends, but today we had few boats. We explored a lot and just hung around and did lots of swimming. The shores of the river had a lot of state land, which always makes it nice. I wouldn't make a special trip to this area as the riding is limited, unless you do sections at a time and re-launch around each dam (I did this once on the Susquehanna River), but if you are ever in the area it is very well worth the launch. Another great day of riding, especially for my wife. This was right up her alley! Friday would be a Coast Guard Day and Saturday would be back home to go boating, but Sunday would be the Hudson River Trip……