Saturday, August 20
I do a lot of trips solo so when a trip is planned with other people I keep in mind that I have to be flexible and just take the day as it comes. The trips wind up being a lot of fun and interesting, as this trip was to become. Awhile back when riding with a lot of people all the time there was always an issue so we started to just say "It's part of the adventure" and deal with it and move on. Plans were altered but you tried to have fun in spite of whatever went wrong….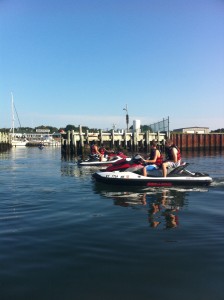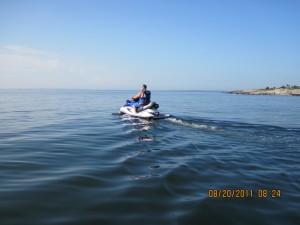 We met at 8:00 at Orient by the Sea Marina in Orient Point. We had 5 Skis and 7 people. Showing up were Carin, Dave, Geoff, his son Jeff, Kavan and James. By the time we got going it was about 8:45; the weather was perfect and the sea conditions calm. Now here I should mention that I wasn't sure this trip was going to happen for me as I didn't get my new ski until Tuesday (last one the engine blew – hit a submerged object, lost anti-freeze and ka-put) and Geoff had issues with his ski but got it back at the last minute as well.  I know that we all have our issues with dealerships, but on this occasion I have to say Thanks to Mike G, Jeff and John at Island Powersports for helping me out with my issue and getting me back on the water as quickly as they did. And another Thanks to Mark at Geico/Ski Safe for acting quickly and answering all my phone calls. Back to the trip, we pass the "Coffee Pot" in Plum gut and start heading across the Sound and it felt like all the pieces came together for a nice day – until I turned around and saw a ski lagging behind. When I pulled up Geoff was in the water and Kavan was trying to keep a sinking ski from going under! I have two big fears – any vessel taking on water and heights. Both fears were to be realized today. After some scarey minutes I thought we were going to lose the ski but Dave got me a line and we were able to tow the ski back to the dock, although it was not uneventful task.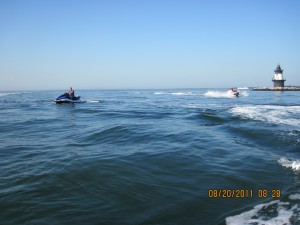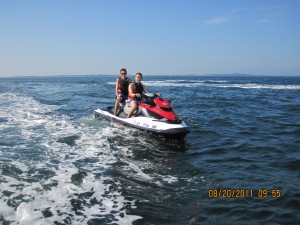 Not to let the day become a waste Carin and I offered to take a passenger each and we were on our way again! Part of the Adventure and rolling with the punches.
Round 2 past the "Coffee Pot" and heading to the entrance to the Connecticut River in Old Saybrook, the water was still pretty calm. It's approx 18 miles from the Orient Point  ramp to the entrance to the river, where it immediately begins a long 5 mph zone as you pass Old Saybrook and under the I-95 Bridge. As I've said before this is a great trip and a real nice River, but there are too many 5 mph zones.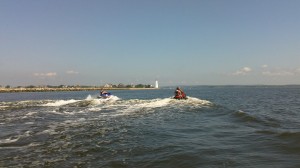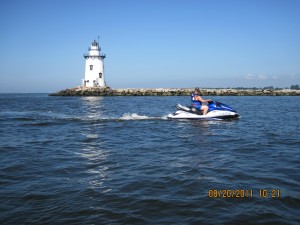 The trip up the river was real pretty and the only waves were from passing boats. Pass Essex, East Haddam, Goodspeed Opera House, and Gillette Castle. As we passed Haddam Island State Park on the left, we came upon some people jumping off a cliff on the east side of the river. I believe this is Old Rock Landing Cemetery. We took a break while we watched, but when we went to leave another ski had an issue – stuck in neutral. After waiting and a lot of luck it went into forward and we figured that if we didn't touch the lever we would be OK so off we went.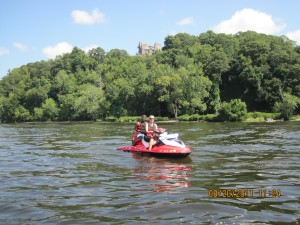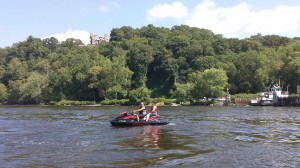 We stopped at Middletown for fuel but when we started up the ski with the issue it wouldn't leave neutral again so we figured we would have lunch at the Canoe Club and maybe the system would reset so we could start the trip back. No such luck.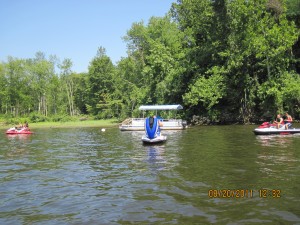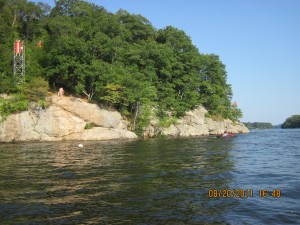 With no other option we had to leave the ski behind in Portland and ride 3 to a machine home. Yup, part of the adventure! Once again we rolled with it and it really wasn't so bad riding 3-up, especially because the water was calm. The ride down was nice, if not the most comfortable as I had to sit the whole way. AS we were passing the cliffs on the way down we decided to make an attempt to  jump. It was pretty awesome and I would say do it if you make this trip. It was one of the highlights.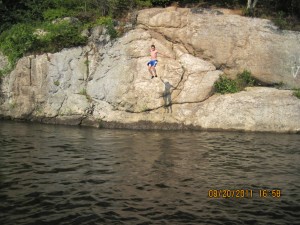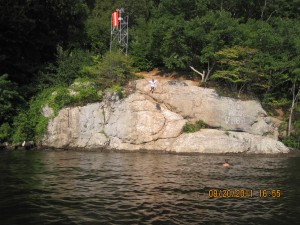 The rest of the trip cooperated, especially the sound, which was a gift. We were back at the ramp by 6:45 and another successful trip under the belt. Approx. 101 miles and a 10 hour day on the water. Pretty awesome adapting when the issues arose and making the day into a great one.